Welcome to

Bitterroot Valley Dental Care
We are committed to providing quality healthcare to families and patients of all ages in Stevensville and surrounding areas. We provide comprehensive solutions for our patient's oral health needs. We listen to our patients, taking the time to understand your individual concerns. By understanding our patients' objectives, we have solid plans to improve their oral health and transform their smile into something bright and beautiful.
Bitterroot Valley Dental Care is located at 120 LJK Way, Stevensville, MT. We are just off Eastside Highway, across from the Country Store, south of Main Street.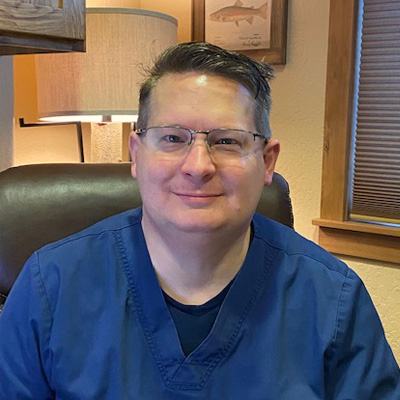 Our Doctor
Dr. Eric A. Myers, D.D.S., has been practicing general, family and cosmetic dentistry for over twenty years. He graduated from the University of the Pacific School of Dentistry in San Francisco at the age of twenty four. He holds a Bachelor of Science in biology from University of the Pacific, in Stockton, California. Dr. Myers completed both degrees in six years due to being accepted into the accelerated doctorate education program.
After years of searching for the right Montana dental practice, Dr. Myers decided to make the town of Stevensville, in the Bitterroot Valley, his home. In March 2020, Dr. Myers took ownership of Bitterroot Valley Dental Care. He comes to Stevensville from Albuquerque, New Mexico, where he owned a successful practice with two office locations and practiced dentistry for the past eighteen years. Prior to that, Dr. Myers worked in private practice in California.
Dr. Myers desires to help people when emergencies arise and has the skills to do so. In addition to general dentistry, Dr. Myers is proficient in many areas of oral surgery (including removal of impacted wisdom teeth), endodontics (root canals), and oral sedation. Also, he has a strong interest in not only restoring dental implants but placing implants. Dr. Myers has completed a fellowship with the International Dental Implant Association.
Dr. Myers believes strongly in providing his patients with the same level of care he would choose for himself. He provides exceptional dental care that is comfortable in a peaceful environment to all ages. Since acquiring the practice, Dr. Myers has updated his facility with nitrous oxide and 3D X-ray (Cone Beam Computed Tomography) to provide the best care possible to existing patients and new patients.
Dr. Myers moved to Stevensville with his wife, Katherine, and their three children, Alexandria, Harrison and Conrad. He and his wife desired a safer place to raise their children and to spend time in nature and found Stevensville and the Bitterroot Valley to be just what they had been seeking. They have a full house when you add in their beloved wheaten terrier, English-cream golden retriever, rescue rabbit and Dr. Myers' childhood pet turtle. When not practicing dentistry, Dr. Myers can be found fly fishing, hiking, hunting and spending time with his family enjoying the peacefulness and integrity of Stevensville and the surrounding area. Dr. Myers and his family feel very blessed to call Stevensville home and appreciate the friendliness of the community.
About Us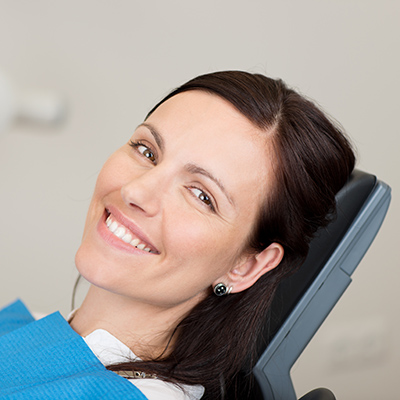 Our Services
Bitterroot Valley Dental Care provides a wide variety of dental services and procedures to address all of our patients' dental health needs. This includes Root Canals (Endodontics), tooth removal (Routine and Surgical Extractions including Impacted Wisdom Teeth). This means you don't have to go to Missoula to be seen by a specialist for a Root Canal or Extraction of a tooth. Those procedures can conveniently be done in our office. Our office has some of the latest technology including:
Extra Oral Digital X-Rays – No More Gum Pinching X- Ray Films
Nitrous Oxide
Oral Sedation
All Ceramic Crowns (No Metal)
Soft Tissue Diode Laser
We are able to treat patients of all ages in our comfortable, relaxed setting. Our experienced doctor and staff are trained to treat the underlying causes of your oral health concerns, not just the symptoms. Our comprehensive approach sets patients of Bitterroot Valley Dental Care on the road to long term oral health. Ask us about:
Cosmetic Dentistry
Pediatric Dentistry
Emergency Dentistry
Root Canals
Wisdom Tooth Extraction
Dental Implants
Teeth Whitening
Dental Veneers
Dentures
Partial Dentures
Crowns and Bridges
Services Offered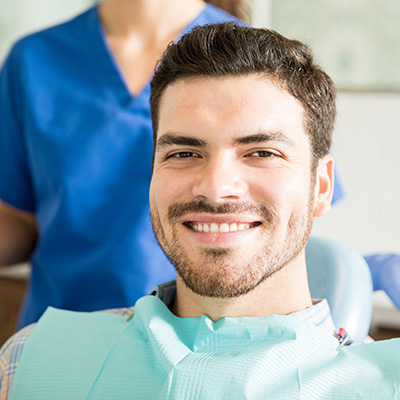 Patient Information
When you walk into the office of Bitterroot Valley Dental Care you will be immediately greeted by our friendly staff who are dedicated to making sure that you feel comfortable during your entire appointment. We understand that patients can feel anxious when going to the dentist, and our staff will take the time to listen to all of your concerns and help you understand exactly what your procedure is going to be like. At Bitterroot Valley Dental Care we pride ourselves on being an affordable family dentist that accepts a variety of insurance plans and payment options, like cash and credit cards, because we want to provide a beautiful, healthy smile to everyone in the Stevensville area. Call Bitterroot Valley Dental Care today at 406-625-0382 to see why we are the dentist of choice in the Stevensville area.
Patient Information